On Friday afternoon, I managed to get the baby to sleep shortly before Jill arrived home from work. You have likely gathered that this is at times difficult to manage, as our daughter is not one to give in to sleep without a fight. But yesterday, after a busy morning spent playing and running around, she let me know that she was tired. When she actually takes the initiative to tell me that she's ready for a nap, she sometimes falls asleep easily. Not always, though; expecting a long haul, I put her down in Jill's and my room so that I could lay down as well. She fell asleep quickly, and without incident.
Jill came home around ten minutes later. It was her last day of work before Spring Break, so we decided to celebrate in our usual fashion. In seconds, Jill's clothes were off and, knowing that the baby was occupying our bed, she was lying spread-eagle on the living room floor atop our red Liberator Throe. Porn was playing on our television as I hurried to cast off my own clothing as well. I droped down between her legs and began licking and sucking on the lips of her pussy and her clit. It didn't take her long to climax the first time, and once she has the first, more invariably follow. In short order, the Throe was drenched, and so was my face and chest.
By this time, I was very eager to fuck. I'd been horny all day – well, I usually am – and the entire time I was getting Jill off, all I could think of was being in her pussy. Once inside, however, I couldn't resist giving her a couple more. I wouldn't go so far as to say "my mistake", because the pleasure and satisfaction my wife derived therefrom was well worth it. However, when I heard a familiar murmuring in the room behind me, I realized I should've been quicker.
The murmur was typical of the not-quite-awake-yet sounds our daughter makes when she's just finished napping and hasn't finished rubbing the sleep from her eyes. She is usually still in bed when she makes these sounds. This time, however, she had silently gotten out of bed, walked down the hall, and beheld the scene before her for a second or two before alerting me to her presence.
We just had sex in the living room while watching porn. The baby woke from her nap and came looking for us. Silently. I think she's a ninja.
— Jack (and Jill) (@jackandjillcpl) April 14, 2012
I immediately jumped up, doing my best to cover my nakedness. We greeted the baby as if she hadn't just walked in on us fucking, all smiles as we tried to distract her from something that is, technically, completely normal. She's walked in on us before, though when she has we've usually been in bed, and as far as she knows we were sleeping. She's never been looking down on us before, with an unobstructed view of the mechanics of it all. Fortunately, she didn't appear to be outwardly disturbed by what she'd seen.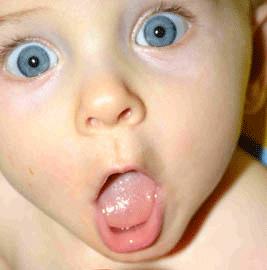 In other words, she didn't look like this.
I turned off the television just as Adriana Sage was receiving a double facial. Jill swept the baby up in her arms, excitedly telling her that she's off of work for a whole week and that they'll get to play together and read stories every day. Any psychological damage – and again, there appeared to be none – was apparently immediately repaired. Jill took a shower with the baby, and when they were finished I did as well. That night we had dinner guests over, and the baby didn't tell them that she'd walked in on Daddy strangling Mommy or something. All appeared – and for that matter, still appears – to be normal.
The kid is now two years of age. It's not like when she was six months old and we could sixty-nine while she was strapped into her baby carrier and she would be distracted by the wallpaper pattern until we were finished. Now, she's much more needy, and expects a routine. If Mommy and Daddy aren't where she expects them to be when she expects them to be there, she'll investigate.
Also, she's talking more than she ever has, and will only grow more vocal, more willing to share absolutely anything with absolutely anyone. So clearly we have to be more careful. I admit that it's my own fault for not putting her in her own bed after she had fallen asleep in ours (not that that would have prevented her from coming to look for us). But neither of us expected her to sleep for such a short time; usually once she's down she stays down for roughly two hours, and it wasn't like we'd made any loud noises that would have jolted her from sleep. Even if we had, she is likely to have cried, called out to us, or simply not gotten out of bed and silently gone exploring. The television volume was almost too low for us to hear, and certainly not loud enough to wake a soundly-sleeping baby on the other side of an admittedly-small house.
Have we learned our lesson? Probably not. We are considering sewing bells to her clothing, though in addition to being somewhat degrading, it's unlikely that we would have heard them jingle softly, especially if she was walking down the hallway as opposed to running. Also we just don't want our child to look like one of Santa's elves, which I assume she'd resemble if we hung a bunch of bells on her.
Has anyone else faced a similar situation with their child?