You may be aware, if you've been reading our blog for awhile, that group sex is something of an obsession of mine. "Obsession" may be too strong of a word, but it really is something I enjoy. In particular, I like the idea of group sex with me and several women. Two is fine, but there's really no topmost limit. As I wrote last August:
Ever since I've been aware that sex existed, I've wanted to find out what it was like to have sex with two women. I think this is evidence of my greedy nature; if sex with one woman is fun, sex with two women must be really fun, right? Given my singular focus, it's accurate to say that virtually everything I've done over the past fifteen years-plus has been in the hopes of making my fantasy come true. Studying a particular discipline? Choosing an apartment? Picking out a tie? Yes, every one of these decisions and countless others were made with the thought of pleasing two woman at once, and of course being pleased by them as well.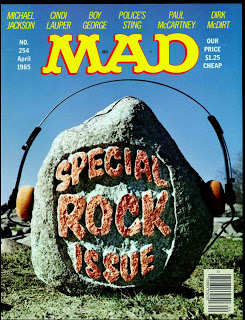 While going through some boxes last week, I came across some old MAD Magazines. Though I hadn't seen this issue, from April 1985, in possibly a decade or more, the sight of the cover immediately triggered something in my brain. Certain that I knew what I was looking for, I flipped through it in search of one specific article – nay, one specific frame! – that, when viewed at age eight would have a profound, indelible impression not only on my sexual development, but on the entirety of my life from that moment on.
The article in question was entitled "Where Your Rock Album Dollar Goes", and takes a satirical look at why records cost so much. This was long before music downloads were a realistic concept, and the only way to acquire music was to walk into a record store and purchase a physical album or cassette.
The panel that potentially altered the course of my sexuality can be seen below. It depicts a stereotypical '80s rock star surrounded by a multiethnic bevy of groupies as a physician administers penicillin. Admittedly, he doesn't appear to be having a very good time. In fact, he doesn't appear to be in particularly good shape, hence the physician. But I didn't care. From that point on, having two (or more) women at once became my singular focus. This is (a) disturbing considering that I was eight years old and (b) pathetic considering that it took me twenty-six years to achieve this goal.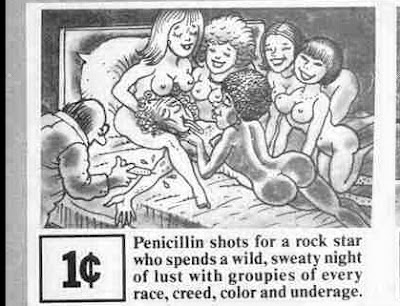 This is likely the first overt reference to multiple-partner sex to which I was exposed as a child.
-Jack