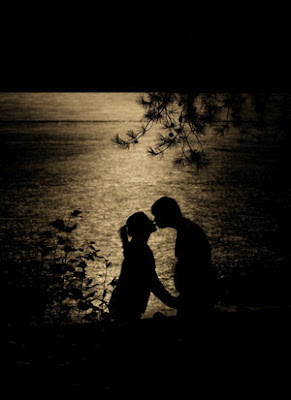 That Saturday found us at my uncle's house on the lake. It was warm, the heat of Indian Summer the perfect occasion for a day spent swimming in cool water, feeling tiny fish biting at our bare feet as we sloshed through waist-deep water, the surface slick with algae and soggy detritus as our toes dug into the muck below.
I wore a simple pair of swim trunks, self-conscious not only about the coarse hair that covered my chest but also about what I was sure was the most ample belly she had ever seen. She'd seen it before, of course, and didn't seem to share my negative opinion. In reality, I wasn't particularly overweight. But I wasn't cut, either. And when you're sixteen and you don't look like one of the jocks, you may as well be Jabba the Hutt.
She wore a modest one-piece bathing suit, light blue. She didn't need anything more revealing than that. Even in a raincoat, she was a vision of chestnut-haired beauty. Her scintillating brown eyes were hidden from view behind white plastic sunglasses that reflected my face in their lenses and reminded me just how out of my league she was. In short, she was sexier than any woman I could have imagined I would ever call my girlfriend.
That summer, most of the Saturdays we spent together found us at that house. Sometimes my uncle and aunt were there, and we'd go swimming, barbecue, and watch TV. Other times they were gone, and we'd bring take-out, go swimming, and make out on the couch. I liked her. She was my first girlfriend, so maybe I even loved her. My desire to lose my virginity to her was balanced to an extent by my need to be respectful, less of her than of her conservative Christian parents who thought I was a decent young man and approved of our relationship.
I wondered if their feelings about me would change if they knew some of the things we had done together. Of late, our make-out sessions featured feel-ups, and on a couple occasions I was bold enough to suck her breasts. I hadn't yet ventured below the waist, though this was due primarily to her inability to give a clear signal, and not to my inability to read one.
Trust me on this
.
I got out of the water first, my body already drying in the sun as I extended a hand out to help lift her onto the shore of the lake. Her swimsuit clung to her steadfastly, her small, girlish breasts barely concealed beneath the material. She took my hand in hers, and put the other on my hip to steady herself. Her touch aroused me. The rocks we stood on were hot, and we made haste up the hill to the house.
We hadn't remembered towels until we were already in the water. That was typical of us, all brash sixteen-year-old impetuousness with little if any forethought. My aunt kept a half-dozen or more large towels folded in a convenient hall closet. We knew they were there. We could have gotten them beforehand, but we were so excited to swim that we just changed into our swimsuits and headed right for the water. So impulsive.
On the other hand, I did have a condom with me. Just one, of course; that would undoubtedly be sufficient for a first time roll in the proverbial hay. I'd been carrying it in my wallet for a few months, since May if I had to guess. And while I knew that a condom stored under such conditions would eventually degrade I had no idea when I was supposed to switch it out for another. To include some sort of user's guide to condom freshness, complete with timetable for switching one for another, would be an admission by the manufacturer that the product wouldn't help you get laid.
I had little indication, of course, that today was to be the day the condom wrapper was finally broken. Sure, I was hoping for some play, but beyond making out and feeling up, I had no expectations. We had talked about sex, talked about eventually having it, but we had no time table. It was 1992, and while we weren't worried about changes to our relationship in the form of deepening emotional bonds or an alteration of the overall dynamic sometimes referred to as "getting weird", we were very aware that sex came with repercussions. We'd both had the perils of venereal disease and AIDS drummed into our heads in what passed for sex education in our respective high schools. And while we were both virgins and understood that the chances of creating AIDS out of thin air were slim, the fear of being saddled with a baby before we were seventeen was very real.
The condom sat tucked in my wallet, right on the kitchen table with my keys, my sunglasses, and my Walkman. It's funny to consider how much less crap I carried around on a daily basis when I was sixteen compared to now. We walked into the house through the sliding-glass door, and while she meandered in the kitchen, likely reading a comic strip my aunt had stuck to the refrigerator with a magnet, I headed to the hall closet where I fetched us some colorful bath towels.
Mine was green, hers bright orange. As I turned to offer it to her I was – what's the correct word? Delighted? Dumbstruck? I would guess that I was equal measures of both, as well as aroused, to find that she has already taken off her swimsuit. I'd never seen her naked before, and while I wish I could say that I enjoyed the sort of long moment spent gazing at her body for the first time that you read about in romance novels, it didn't happen. And I didn't sweep her off of her feet and carry her to bed, either.
No, I was far too excited by what stood before me to do much of anything, even speak. She, on the other hand, had no problem speaking.
"Want to take a shower together?" she asked. When my voice returned to me I answered in the affirmative.
I'll spare you the awkward, unsexy details of that first encounter. I'll spare you the clumsiness that was the result of two naked, hormonally-driven teenagers covered in water and slippery soap. I'll spare you the details of our experimental explorations, and the comedy of errors that was first-time condom usage. I'll even spare you our embarrassment over the sounds we made as we came, and the specifics of what passed for pillow talk as we lay there enjoying a renewed connection while scared shitless about what this meant for our relationship.
Suffice it to say that it was our first incursion into a new arena. And while it may not have been the zenith of what sex can be, indeed of what we hoped it would be – the earth didn't move, there were no fireworks, we didn't climax simultaneously – we understood that it might have been a lot worse. There was no pain, no bloody mess, no mortifying premature ejaculation or loss of erection on my part or loss of wetness on hers. Most important of all, there was no baby.
I have no way of knowing whether our first time was as good for me as it was for her. I have to assume that it was; she told me as much after we were finished. And while I found it physically gratifying, there was something far more powerful psychologically about the experience. I recall feeling confident, perhaps even worldly, as we locked up the house and left. For the first time in a long time, I looked forward to sitting in my homeroom class that Monday.
-Jack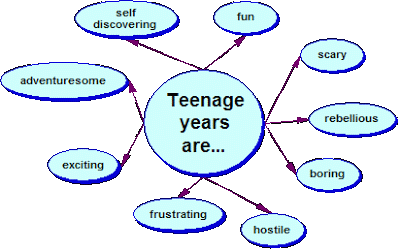 Picture prompt; no verbal prompt this week