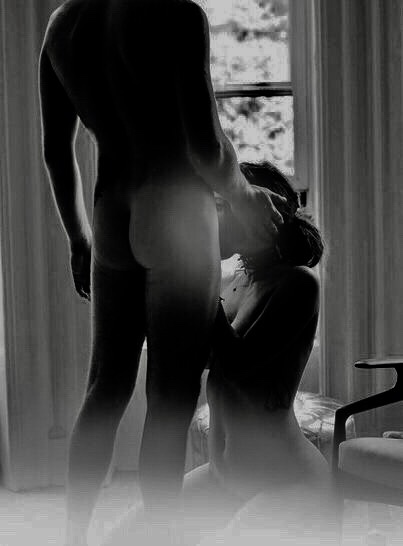 I'm in your bedroom, standing beside your bed.  You are naked, on your hands and knees.  You sit up and paw at my erection through my jeans; my arousal is obvious.  Meanwhile, I gaze at your body for the first time, my eyes darting in a hundred directions, trying to capture in my mind everything I've long wanted to see.  The anticipation is almost too great to bear.  Finally you unbuckle my belt, and my cock strains hard against the denim, desperate to be set free.  In seconds, my belt is unhitched, my jeans open, and my erection in your hands.  You begin by stroking it, then follow your hands with your tongue.  The sensations are overwhelming, and I gaze down at you just in time to see you swallow me to the base.  I watch your mouth move up and down my throbbing length, enjoying the sounds you make as you suck.
After a few moments the sound of a zipper draws my attention to the other side of the room where he sits in a chair.  His enjoyment of the show is obvious as much from the fact that his gaze hasn't wavered as from the fact that his pants are now down to his ankles, his stiff, swollen cock in hand.  He watches with a look of unhinged lust as you pleasure me wantonly, and when you notice where my eyes are you look over at him, smiling hungrily as you spread yourself open in a way that he can't help but see.  After a second you re-focus on your task and once again take me down your throat.  Then you lower your mouth to my balls and begin to lick and suck as your hand works my length.
Excited by your performance, he continues to stroke  himself, then gets up from his chair to take a closer look. His pants discarded and forgotten on the floor, he stands close to me, holding his hard cock inches from your face.  Now it's my turn to enjoy the show.  You kiss the head, and I watch as your lips part to slowly take him in your mouth, holding him there long enough to make him moan. You come back up, desperate for air, and I watch you swirl your tongue all over the head, then dive back down for more.  All the while, my cock remains enclosed in your hand, your thumb rubbing erotically over the head and drawing me ever closer to the point of no return.
After a few minutes, he tells you he wants to watch you suck me again.  As I step out of my pants he moves back and continues to stroke while you take me in your mouth again.  Breathless with excitement, he tells me to fuck your throat, and you brace yourself against the mattress as I began to thrust.  As my hips meet your mouth, he takes off his shirt and climbs up onto the bed.  As you feel him finger you, you suck harder, deeper.  He shoves his length inside you and places his hands on your ass, spreading you wide as he hammers you. At the same time I take hold of your hair, guiding your mouth.  You moan around my cock as he plunges deeply, his balls slapping against you with each movement.  He and I fuck you like we are trying to meet in the middle, and I can tell as you stroke your clit you're getting close.
You announce your climax as best you can, your words muffled by my cock still deep in your throat.  As your sounds of release intensify, so do his.  You suck me faster, desperate for your reward.  You stroke my cock as you suck, the double-stimulation bringing me closer to the edge.  As he comes, he holds your hips and pulls you down onto him, grunting and groaning as he floods you, still thrusting with all his might.  Watching this unfold, imagining your pussy squeezing his cock, wringing out every last drop, there's no way I can hold back.  I tell you I'm coming, and you take me as deeply as you can and hold me there, my moans adding to the cacophony of sex sounds filling the room as your lips hug the base of my cock.  You swallow it all down, and we collapse onto the bed to catch our breath before starting anew.