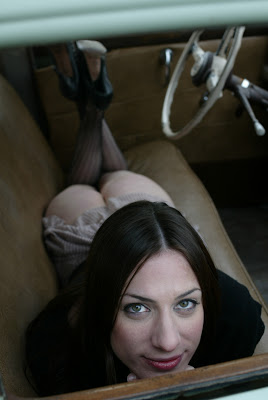 He acknowledged the absurdity of requesting admission to his own car, especially since he was holding the keys. But each time he unlocked the door – going on two hours now – she locked it again.
Demanding that she let him in hadn't worked. Though he knew she'd be able to detect the scent of desperation, he adopted a conciliatory tone: "Baby, please! I'm already late for work!"
"I'll open up if you let me drive." He'd refused the first ten times she asked. Now, though, he saw that it was the only way. When he promised, she shook her head. "Keys. Now."
He proffered his keys toward the open passenger window. She snatched them and quickly started the car. By the time he realized what was happening and made for the door handle, she was gone. (135/135)
Behind the Scenes
This story was much easier to write than some I've done for Flash Fiction Friday. On a couple occasions, I dated the kind of woman who might have locked herself in my car, cajoled me into relinquishing the key, and then driven off without me. (No, that never actually happened.) Because of this, I decided that rather than crafting a story about a guy who spends a carefree day tooling around the countryside in his impeccably-maintained 1952 Hudson Wasp with a beautiful, shapely woman in the passenger seat before pulling onto the side of a rural road for some sex, the story I told would be the exact opposite. I'd question what that says about my attitudes toward women, but I have to think that anyone who's read this blog for any appreciable length of time knows that they're generally positive.
No, this dark story stemmed merely from a desire to think outside the box, so to speak. My first thought upon seeing the prompt photo was that the girl depicted sure was pretty. Dark, lush hair. Attractive eyes. Rich, red lips. Sexy stockings and heels. Bonus points for having her skirt hiked up a bit, revealing a lovely backside. Numerous happy and sexy stories flashed in my brain as I took in the scene. Ultimately I decided to go a different route.
The required phrase this week was "…the scent of [noun]…" Rather than using an actual scent – perfume, the woman's hair, sweat after a particularly vigorous episode of backseat sex – I knew as soon as I decided which story I would tell that it would be a metaphoric scent. Once I began writing, it was clear that I would refer to the scent of desperation. The first draft of this story, in which I ran out of words three quarters of the way in, included the required phrase from the beginning, but I forgot about it when writing the final draft. While proof-reading, Jill reminded me of the omission, and I had to trim a few words.
Deleted Scenes
None, though I can admit to having a difficult time making the story, as originally envisioned, fit within the 135-word allotment. Certain bits of plot detail, notably why the male character didn't just open the driver's side door, push his girlfriend aside, and get in the car, had to be truncated or excised completely, as did mention of whichever deep-rooted self-respect issues made him powerless to demand better treatment.
Soundtrack
The song I heard in my head as I wrote was Johnny Rivers' 1966 hit "Secret Agent Man", specifically the line "A pretty face can hide an evil mind". I even used a portion of that line for the title. However, other than that line the song didn't fit. Additionally, I considered Bel Biv DeVoe's 1990 song "Poison" as the line "Never trust a big butt and a smile" seemed to fit the story perfectly. However, as a musical genre I don't think new jack swing fits either. "Female of the Species", by Space, had already been used in a previous Flash Fiction Friday installment, and I saw no reason to repeat myself. Since I keep coming back to guitar heavy rock, "Bad Girlfriend" by Theory of a Deadman, or "Crazy Bitch" by Buck Cherry would provide a suitable audio track.
If you'd like to take part in the fun, or see who else participated this week, check out
Insatiabear
.