I asked her what she was wearing. It wasn't a come-on, unlike all the other times I'd asked. No, this time I just wanted to know what sort of ensemble to look for as I drove through the arrival terminal. Her message came through while I was driving, and I glanced down at my phone while waiting at a red light: "Dress. Red bag. Boots." As I drove I imagined her so dressed, and I imagined undressing her.
          She'd messaged me after picking up her bag from baggage claim and let me know exactly where I could find her.  When I arrived at the United terminal, however, she wasn't there.  I felt the familiar sensation of anxiety stabbing at my brain, though not because I thought anything had happened to her.  I just didn't want to have to exit the terminal and circle back around.  Driving to the airport stresses me out under the best of circumstances, much less when things don't go smoothly.  As I prepared to leave and return, however, I spotted her a few doors up from where she initially told me I'd find her.  When I checked my phone later, I would find a message telling me she'd moved.  I wondered why, but not enough to ask.
          She was standing by the curb, a laptop bag slung over her shoulder and the aforementioned red suitcase beside her. I eased my car in front of an idling taxi and popped the trunk, then got out and helped her with her bags. I welcomed her to California, but wasn't sure what, if anything else, the situation dictated. We'd talked about being so excited about finally meeting that we wouldn't even wait to drive away from the airport before we gave in to our long-simmering carnal passion. And while that was certainly an appealing scenario, I wasn't looking to get arrested for indecent exposure while loitering outside an airport terminal. We didn't hug, either. Generally speaking, I'm not averse to physical contact, but I don't hug without asking if it's okay. And I was so eager to get her to my house and into my bed that I didn't bother to ask.
          We'd first crossed paths online more than a year ago. I'm not sure whether we started by commenting on each other's blogs, or whether we'd caught each other's eye on Twitter, and took it to direct-messaging for sex talk. But we did both. When she was working from home, midday mutual masturbation sessions were so common that it really sucked for both of us when she got an outside job that precluded such play.
          Jill and I live close to the airport, so the drive was thankfully brief. With all the talk of us being unable to wait until we got back to my place, I was impressed by our mutual restraint. Additionally, Rye declined my offer of breakfast out. I'll be honest, I was glad.  I was hungry, but after a few minutes spent peeking at the sexy expanse of bare leg between the hem of her dress and the top of her boot while we sat in slow-moving morning traffic, I sure as hell wasn't craving bacon and eggs.
          I gave her a quick tour of our modest abode.  There's not much to it, but I felt like prolonging the sexual tension which by then was so thick it could have been drizzled over pancakes, so I showed her around the living room and then the kitchen and my office.  I walked her to the bedroom, where I advised her she'd be spending most of her time while she was here.  The tour culminated on the balcony off of our bedroom; it was at this point that I realized I hadn't yet kissed her, and I really wanted to.  She must have felt the same way, because our mouths came together, open and hungry.
          We kissed fervently, urgently, with the intensity of a dying star.  As I felt her body through the slinky, sexy dress she'd picked out for our first meeting, I felt my arousal growing.  My hands worked their way up her legs and under her dress.  Her panties felt soft and feminine against my fingertips, but I was certain I'd find what was underneath even more pleasing to the touch.  For a moment, I moved my hands up to her breasts, feeling them yield to my touch.  I thought about the pierced nipples I'd seen in pictures, thought about rolling my tongue over them and feeling the contrast between the soft, warm flesh and the hard, cold metal.
          I led her back inside, unable to wait a second longer.  I offered her a seat on the bed and asked if I could take off her boots, and when she said yes they were quickly removed and discarded, along with her socks.  Kneeling beside the bed, I caressed her feet and legs, basking in the all-encompassing anticipation.  It occurred to me that this wasn't the norm for her; as a sub she was undoubtedly unaccustomed to having a partner kneel before her, and I asked if she was okay with it.  She was, so I kept it up for a few minutes, then I stood up and undressed her the rest of the way.  The charge I felt upon beholding her naked body for the first time was nearly overwhelming.  She helped me strip off my own clothing, and then we were on the bed, my face between her widely-splayed thighs.  When my hunger was sated, I put on a condom and fucked her.  The sex was quick and dirty, the kind you have when impatience overrules everything, and it culminated in explosive orgasms for both of us.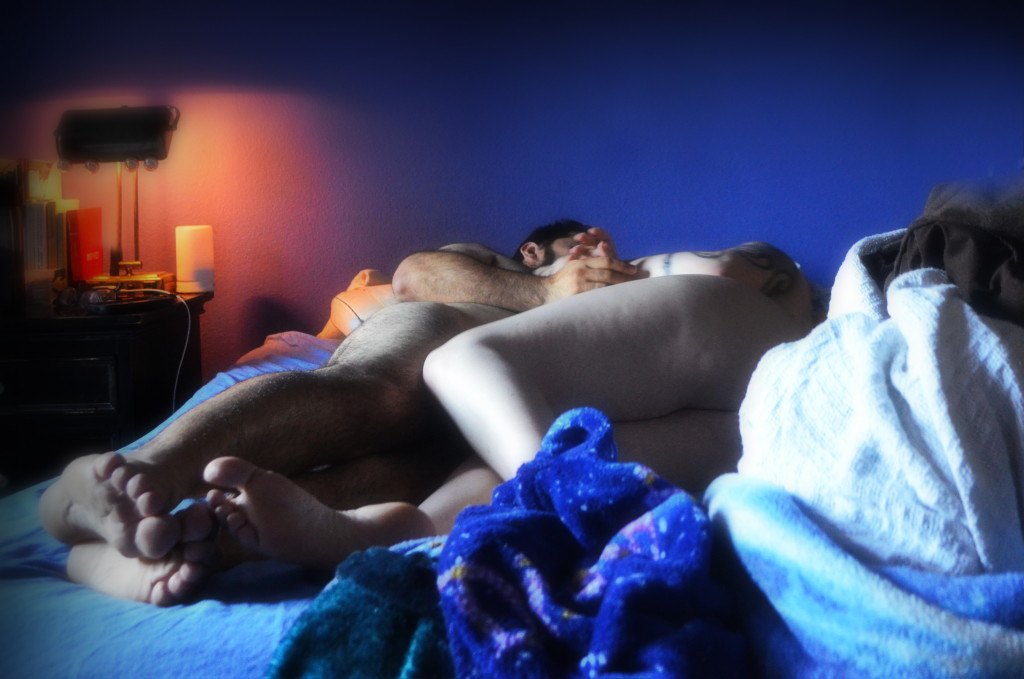 We lay together on my bed, bathed in the morning sunshine, trying to catch our breath.  We caressed each other idly, enjoying the high even as we anticipated what the rest of the day would bring.  Then we stripped the bed and threw everything, including our Liberator Throe, into the washing machine.  It was the first of many loads of bedding that would be washed while our guest was with us.  I joined her in the shower so we could get clean before getting dirty again.
          As we huddled under the hot, steamy spray, I lathered her up.  While my desire to help get her clean was genuine, I wasn't unhappy to have the opportunity to cop a few more soapy feels.  More than anything, though, I was amazed at how different she looked with her glasses off and her wet hair pulled back.  I'm not saying that she looked better, just different.  If not for the tattoos and piercings, she might have been a completely different woman for all I knew.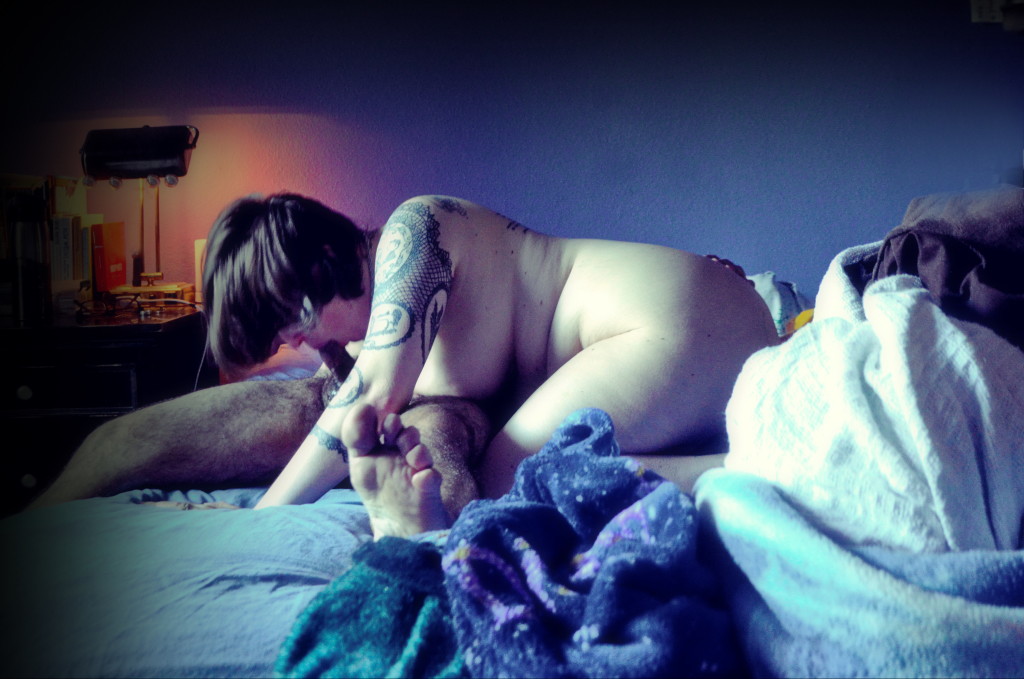 After the shower, we returned to my bed, where Rye gave me head for a very long time.  I was aware of her love of and proficiency for sucking cock, and I was looking forward to feeling her thick, pleasing lips moving up and down my length.  I didn't come, however, and I got the distinct impression that this disappointed her.  It's not that she gave up or got tired; I simply don't always come from oral sex, and for me to do so it requires much concentration.  It certainly doesn't have anything to do with my partner's technique.  My first time getting head from a new person, I am usually so excited by the new sensations, by the sight of her body, by the simple fact that it's happening, that I can't concentrate sufficiently. So instead we fucked again.
          We kept at it for most of the day, though we had to be finished by 4:30 or so.  Jill asked that we be finished and dressed by the time she got home; she has an issue with the idea of feeling like she's imposing on someone, i.e. on me and someone I'm fucking, simply by walking into her own house.  We had sex in many positions and shared lots of orgasms.  The Throe went back into the wash, as did the sheets once more.  While I was happy to take credit for the orgasms that soaked them, I was happy to know that our guest's splash zone was vast as my wife's, and proud of her for not feeling inhibited about expressing it.
          We showered again, then got dressed and sat in the living room.  We talked politics in advance of the evening's Vice Presidential debate.  When Jill came home she poured herself a cocktail and joined us on the sofa for awhile before making dinner.  After we ate, we relaxed on the couch and talked some more.  It was perhaps the typical getting-to-know-you chit-chat, but we enjoyed it.  It occurred to me that while she and I had been in contact for quite a long time, both on Twitter and our respective blogs, we didn't really know each other, exactly.  We'd exchanged some minor life details and the like, but it was fun to actually open up a little and share.
          We were all tired, Rye from jetlag and a long day of travel, Jill from a stressful day at work, and me from lack of sleep due to a minor cold, as well as from spending six hours fucking almost nonstop.  However, we still managed some playtime once we'd led our guest down the hall to our bedroom.  It was her first time having a threesome with a couple before.  Jill and I undressed our guest, something we haven't done with a playmate prior to a threesome in quite awhile.  We lay her down and kissed and touched her.  The festivities climaxed, quite literally, with me fucking Jill while Rye kissed her body.  I came in my wife's mouth, and we went to bed so satisfied that despite some crowding, we all slept soundly.
          Although Jill and I have spent the night sleeping with other partners, this is the first time we've actually slept three to a bed.  One of Jill's initial rules for non-monogamy, established years ago, is that when having a threesome with another woman, she wasn't allowed to spend the night.  This is a seemingly sensible rule, as in the early days Jill was worried about re-establishing the connection with me following sexual contact with another.  Hence, the guest left, and the two of us enjoyed some intimacy, or at least time for each other.  Obviously this rule fell a long time ago, which is to say that Jill no longer feels threatened by such contact, and doesn't feel the need to have me all to herself afterward.  That said, as all of our bedroom guest stars have been local (or otherwise local to wherever we were at the time), it wasn't an issue as they simply left afterwards.  It was nice that Rye was visiting and had nowhere to go, as we enjoyed having her in our bed.  In particular, it was nice cuddling with my wife throughout the night, then turning over and doing the same with her.
          To be continued.