Wednesday was full of lots of amazing things.  There was incredibly hot sex, delicious food, and a lot of fun.  From morning until night, there wasn't a moment wherein I felt less than thrilled to be alive.  And yet, one of the most memorable things that happened was when Rye and I finished having sex and we both reached for our glasses on my nightstand.  We cuddled and talked for a bit, and it was several minutes before I noticed that the glasses fit my head differently than they usually do and realized I was wearing hers, and she was wearing mine.  That means that our prescriptions are so similar that they might actually be the same.  Which is a huge coincidence by itself, but added to the fact that we share a birthday it's almost mind-blowing.
          I reached out for my wife in the early hours but found her absent from the bed.  As I stirred I could hear the shower running; she was already getting ready for work.  I was pleased with all the elbow room; the bed had been cramped during the night, especially as I was sleeping between two women.  Still, I didn't waste time before turning onto my right side and spooning Rye.  She was sleeping soundly, and I didn't wish to disturb her.  I figured she was still tired from her early start Tuesday morning, and jetlagged as well.  However, I was already hard, and while I'd never begrudge somebody their much-needed rest, I hoped she wouldn't sleep too late.
          She did not.  As I felt her stir I kissed her on the neck and shoulder.  Jill emerged from her shower and got dressed, and once she was out the door we didn't wait long before getting started.  I placed my DSLR on its tripod and set it to take shots every couple seconds while we were fucking.  I noticed as we kissed and teased each other that, with the initial explorations out of the way, the sex provided more familiarity and comfort than the day before, while still being incredibly exhilarating and gratifying.
          Temporarily sated, we decided to take a break and move to the dining room, where Rye had her morning cup of coffee.  Her love of the beverage was well-known to me; on her
Twitter profile
she describes herself as "obsessed with coffee", and in fact when I asked her prior to her visit what food or drink she'd like us to have on hand, the first thing she requested was Coffee-Mate or a similar creamer.  Another thing she requested was fresh fruit, which proved an excellent means of refueling during our periodic recesses.  I cut up an apple, a pear, and a peach, and peeled an orange.  We sat for awhile, talked, and ate.
          After we were finished, we returned to the bedroom.  She'd mentioned earlier that she wanted this to be "Use Rye Day", and this definitely didn't sound unpleasant.  To say that Rye was determined to prove her oral skills after what I'm guessing she saw as a failure the previous day is perhaps an understatement, and while she had nothing to prove as far as I was concerned, there was no way I was going to stop her.  I lay down on the bed while she knelt over me and swallowed my cock to the base.  Quite a few minutes later, I felt climax approach.  I somehow managed to alert my partner, and as the waves of pleasure washed over me, I felt it again.  And again.  And once more.
          If you're keeping track, that's four multiples.  Yep, that's right – I occasionally have multiple orgasms.  I know they're far more common in women, and I understand a big part of the reason is that most men become too sensitive immediately following orgasm, but if my count is correct I've had legitimate multiples four times in the last four years.  When it happens it's always while receiving oral sex; being the receptive or reactive party seems to facilitate it much more than being the proactive party, i.e. fucking someone as opposed to lying still and being administered to, might. However, until that day I had never had more than two in a row.  This was something new.  An epiphany, if you will.  I hadn't come particularly voluminously as I frequently do.  Even the first one was less generous than is typical for me.  But the intensity of the sensations grew exponentially until the final orgasm, by which time I lay flat against the mattress as though trying to reverse-burrow my way to the boxspring.
          We showered then, and decided to go have lunch.  As we discussed options I found myself overwhelmed by the possibilities.  Our locale is a veritable paradise for the discriminating food connoisseur and the slumming foodie alike; I immediately thought of more than a dozen musts, but before we left the house I'd decided on a favorite local taqueria.  It was after the lunch rush and the restaurant wasn't as busy as it would have been an hour earlier.  We got enormous Mission-style burritos, so named for the district in San Francisco where they were first sold in the 1960s.  They're something I've taken for granted my entire life, but as it was Rye's first time in California she'd never had one before.  (Chipotle doesn't count.  Sorry.)
          It occurred to me as we sat across from each other that I felt no concern that we'd be spotted by someone who knows Jill and I.  This is something that is frequently on my mind when I'm out with someone other than my wife, and I realize that it's likely mostly paranoia on my part.  At any rate, I've been on dates before and it hasn't happened, though given the size and omnipresence of my wife's social circle, i.e. her outwardly traditional Catholic friends and extended family, I realize it could at any moment.  It's often on my mind and it leads me to pre-emptively concoct explanations, just in case.  I'm not sure why I care, as Jill herself doesn't seem to.  Still, in the event that some judgy member of Jill's family walked in, I was going with "This is a fellow parent from my daughter's school."  It would have worked; my companion and I weren't holding hands and gazing into each other's eyes, though I suppose I would have liked it if we were.
          After lunch we walked around Downtown, eventually ducking into an independent toy-and-hobby shop to look around for a few minutes before returning to my car.  The establishment has been a fixture of the community for more than sixty years, and I used to ask my parents to take me there to browse in the 1980s, when my tastes ran the gamut from G.I. Joe figures and Transformers to remote-control cars and Aurora-brand model kits.  Decades later, I'd bring my daughter and she'd play with the slot cars and make delicious pretend treats in the play kitchen while I stood nearby, supervising her while texting sexy friends.  Ahh, the good old days.  2013.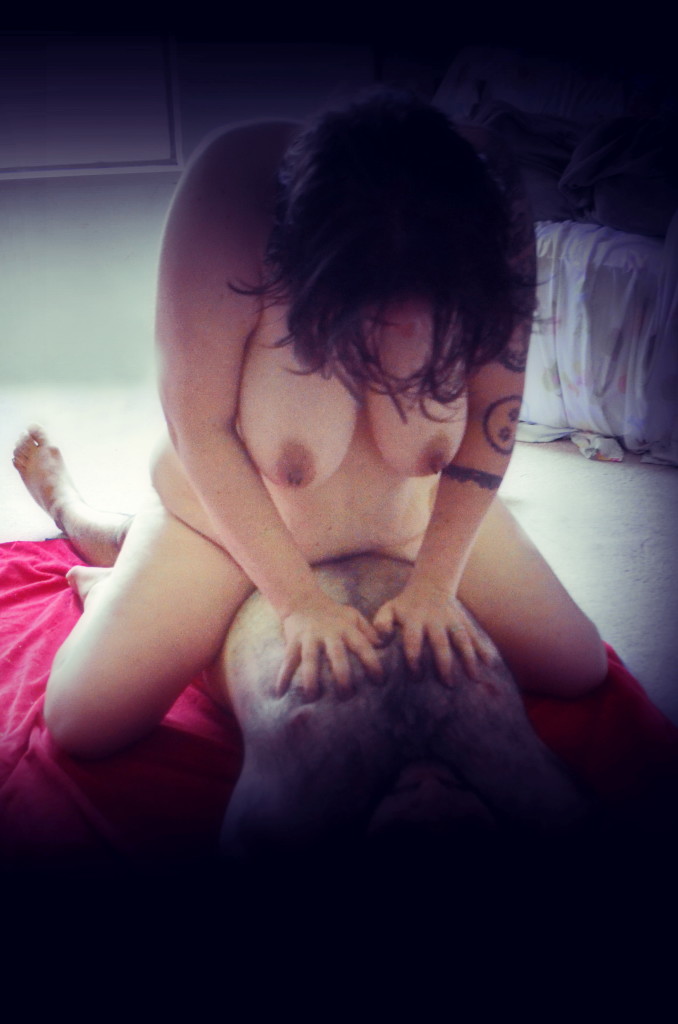 Back at my place, we had sex in the living room atop the Liberator Throe.  And it was a good thing, too, because Rye squirted so much we would have had to replace the carpet.  We switched from position to position, beginning with missionary, switching to spoons, then doggy style, and finally cowgirl.  For a sub, she had no problem adopting a superior position, and I was impressed with her energy and enthusiasm.  I fisted her then, and as she soaked the Throe and my forearm I managed to get a couple videos to send to her husband per his request.
          We returned to missionary, and when I asked where she wanted to receive my cum, she said she wanted it on her.  It didn't take me long, especially since I could tell she was close as well.  As I reached climax I pulled out and leapt up, whipping off the condom in a single fluid move.  Rye fingered herself to orgasm as I stood over her and stroked, the streams spattering against her neck and breasts as she moaned with release.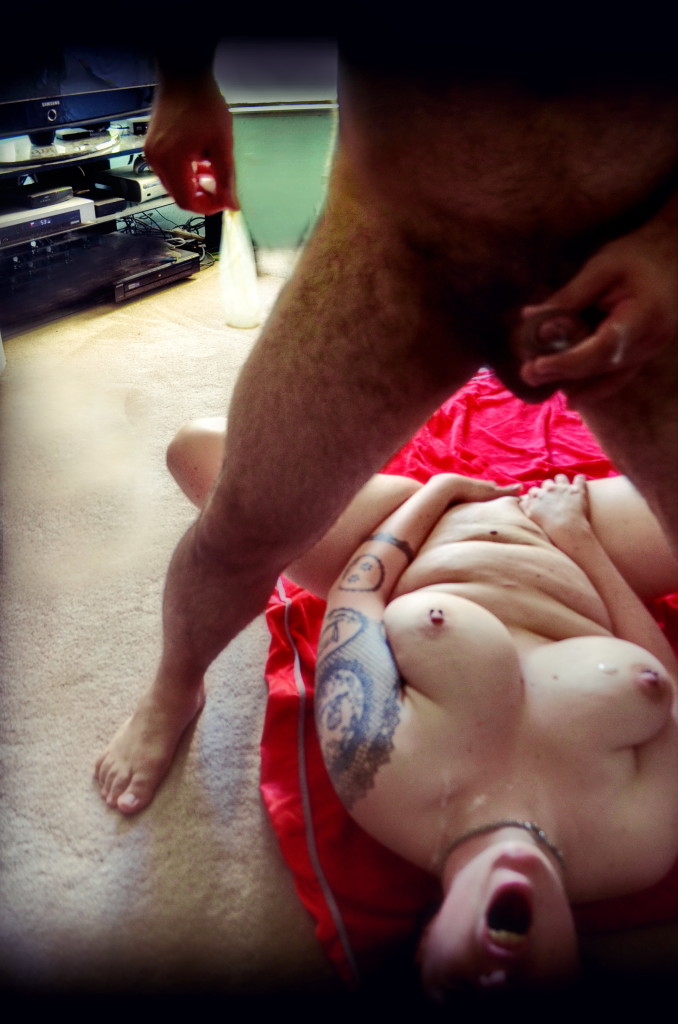 In the bedroom, she got her Doxy out of her suitcase.  I'd heard her reference it frequently in our chats and also seen it in action on her blog; when asked what items I'd like her to bring, the Doxy was the first thing I requested.  She let me use it on her, and together we pushed her to another intense orgasm that soaked the towels I'd laid across the bed.  It was hot to watch, and as she closed her eyes for a short nap, I tossed the towels in the washing machine with the saturated Throe.  I spooned her then, even managing to doze off for a few minutes myself.
          When she woke with a smile, Rye asked what I'd like to do next.  I recalled her mentioning that it was Use Rye Day, and it occurred to me that I hadn't yet fucked her ass, something her husband had strongly encouraged.  When I made the suggestion, she got into position immediately.  I put on a condom and lubed up both myself and my guest; I was about to attempt entry when I heard Jill's key in the door.
          Jill had a hair appointment scheduled after work, and I wasn't expecting her to come home first.  I froze where I was, much like the proverbial deer in the headlights.  She walked into the bedroom taken somewhat aback by the spectacle before her.  Clearly she wasn't expecting to walk in on me fingering another woman's ass.  I suppose I'd screwed up, technically, as I'd all but forgotten Jill's rule about us being dressed or otherwise not actively fucking when she comes home.  In my own defense, however, we've never actually done anything like this before.  I assumed when she gave me that rule that it only applied to the first meeting between her and the other person.  In other words, I expected she didn't want the other person to have to take my cock out of her mouth long enough to say how nice it is to make her acquaintance, but once the initial meeting was out of the way I figured anything goes.  Besides, like I said, I figured she was going straight to her hair appointment.
          Granted, Jill didn't seem upset or anything, but Rye and I decided to hold off.  We hung out with Jill and talked while she decompressed after work.  Then she left for her appointment, and my guest and I went out to dinner.  We hit a gathering of food trucks at a local park, ate delicious mobile-kitchen food while sitting in folding chairs and listening to live music, and witnessed to our amusement a kid with the most exaggerated, out-of-place rat-tail haircut I've ever seen in my life.  While Rye inferred such a hairstyle was fairly commonplace back home, I can honestly say that if I've ever seen someone with a rat-tail in my locale, it's been decades.  I can't fathom which 1980s time warp the kid stepped out of, nor can I explain why none of his friends was sporting a mullet.
          After we ate we took a walk along the water before heading back to my car.  We made out a bit, unconcerned for who might see us.  Then we headed back home.  Jill wasn't far behind; she had declined an offer of dinner from the food trucks, and instead opted to drink when she got home.  When we moved the party to our bedroom, Rye took a more active role than she had the night before and went down on my wife while I fucked her mouth.  (That's Jill's mouth, not Rye's, which would have been quite a feat!)  I enjoyed watching and feeling Jill react to the new sensations of our guest's mouth on her pussy; it's been more than a year since she last played with a woman.
          That night I drifted off to sleep very content, just as I had been the night before.  Not even the fact that in less than twelve hours our guest would be boarding a train for the next leg of her California trip could dampen my mood.
          To be concluded.